The first thing that comes out of my clients mouth 9 times out of 10 is what is SEO? Or, what is the benefits of SEO? Being the owner of the top SEO Agency in Austin puts me in direct contact with individual business owners that ask these exact questions. These questions, honestly, frustrate me so much because of the ignorance of how important certain marketing techniques can be for a business.
Just image that you are a lawn care business. Your competitor has a presence when looking up "lawn care company near me" in search engines such as Google or Bing. On the other hand, your company does not show up when looking up these search terms. This would, of course, lead to your competitor having a significant advantage in comparison to your company. This is just the prefix of why SEO is important. It is a form of marketing has helped our firm grow companies sells in the millions with investments as low as 395 a month! The ROI associated with SEO is beyond what you will see with almost any other form of marketing. 92% of purchases start with a search engine! 92%!
I wanted to write this article so we could educate business
owners on the importance of SEO and how to master the basics. It is always best
for business owners to do that they do best. You will never see me attempt to
do my accounting, but that is because I am not good at accounting. I pay
someone to do my accounting. When it comes to new or, even, seasoned business
owners they sometimes try to do it all. As I am sure you have heard the
verbiage; "A jack of all trades, is a master of none." You need to understand
the basics of SEO because it helps you not only hire professionals from seo agency but also be
able to hold them accountable. I will explain these SEO principles in simple
way so that you can understand them in a way that makes it actionable for you…
the business owner.
SEO Keywords
These are the words that are typed into a search engine. In
the SEO world keywords are measured by how difficult they are to rank for and
the average search volume. Keyword difficulty is measured on a scale of 0 to
100. 0 being extremely easy to rank for when and 100 being extremely difficult.
You want to be able to capture low hanging fruit by picking keywords that are
not only pertinent to your business, but also low on the keyword difficulty
scale. You also must consider the average search volume. You might have a
keyword that is extremely low on the keyword difficulty scale and pertains to
your business, but the search volume is so low that focusing on this keyword
will bring no visitors to your website.
Doing keyword research is something that takes experience,
but there are many platforms that help business owners and SEO agency
professionals find the best possible keywords. Websites such as KW Finder or SEM Rush can help with the
research of keywords for your SEO efforts. Being able to obtain the necessary
data on keywords is one thing, but being able to interpret that data where the
professional comes in.
SEO agency professionals need to take information from the business owners, such as business strategies moving into the future. What brings the company the most profit? What customers the
business is trying to market to? These questions and details need to be
presented to the SEO agency professional so they can determine what the best keywords are, along with analyzing the keyword data. There are circumstances that
business owners do not feel comfortable sharing these personal company details
with the SEO agency professional, and in that circumstance protect yourself with an NDA. A non-disclosure
agreement can keep your business trade secrets confidential and make it
possible to achieve the results necessary for your businesses SEO success.

Source: KWFinder.com
SEO Terms you should recognize:
Trend: Search volume trend in the last 12 months
Search: Average search volume from the last 12 months
CPC: Average cost per click in google ads
PPC: Level of competition in PPC (Pay Per Click) in Google
Ads
KD: Keyword difficulty. Calculated from the Link Profile
Strengths (LPS) of URLs ranking in the first SERP
SERP: Search Engine Results Page
SEO Image Tags
Some websites have thousands of pictures on them and behind
those pictures is data that allows search engine algorithms to determine the
significance of these images. When you look up images on google the only reason
they populate is because they are optimized with image tags that details what
the pictures consist of. You might just have these images on your website to
help tell a story or it might be a product that you are trying to sell, but
either way you need to have the meta data pointing in the right direction.
Search engines only want to send visitors from their search engines to relevant
websites. These search engines crawl websites and look for relevant content
(including images) that they can direct the users of their search engine to.

There are some very helpful tools that allow people using
WordPress based websites to alter the image tags on their site very easily. I
will list a few below, in the order I recommend:
Image SEO Plugins
SEO Metadata
There are multiple forms of metadata that are pertinent
toward SEO strategies. Metadata allows search engines algorithm of indexing
sites know what is on the website. By changing a few simple lines of code on
the backend of a website you can significantly increase traffic. Below I will
go over a few different types of metadata that is important to understand when
growing your business on the world wide web. I will also go over some tools you
can put in place to utilize metadata to your advantage.
Meta Keywords Attribute for SEO
This strategy is not of much use anymore, but I wanted to
mention it because you need to fight against it in the circumstance that you
hire an SEO agency professional that encourages its use. Back in the early 2000's
marketers would use this strategy to insert keywords that had nothing to do
with their website just so they could draw in large amounts of traffic and
boosts their DA (Domain Authority). Search engines, such as Google, are
constantly changing the way they index websites to that the search engines can
not be manipulated. This strategy, of course, was one that was ousted by Google
years ago. The content that is on your site needs to match with keywords that
are relevant to what you company does. Search engines reward sites with the
possibility of web traffic based on how much value you bring to the end user
with quality content.
SEO Title Tag
This metadata can have your website going 0 to 60 in less
time than an F1 sports car! It is exactly how it sounds… A title tag. A title
tag might be the most important in terms of metadata. You need to make sure
that what you use for a title tag needs to explain exactly what your website is
about in just one short sentence. You will see this tag on the top of browsers
such as Firefox and sometimes on the clickable link on search engines such as
google.

Meta Description Attribute
This is the information that is displayed below the title
tag shown above. This meta keyword description is said to not effect the
results of search engine rankings by Google. It is more used to give users of
search engines a little bit of a description or what is to come when clicking
the link above it. The easiest way to change the Meta Description on a
WordPress website is to use the Easy WP Meta
Description plugin. Makes sure when hiring a professional from seo agency to take care of
these aspects of your website that these details are taken into consideration.
Meta Robots Attribute
This is giving instruction on how search engines should
crawl your website. By default, this meta tag will automatically allow the
search engine to index your site, but you can use this to make it to where
these search engines will not index certain pages. This can become useful when
certain pages do not pertain to your end goals in terms of traffic.
Backlinks
These are my favorite links. These are the links that add to
the legitimacy of your site. It makes your site the real deal. Think about when
you meet someone you have never met before, but they walk in with the former president
of the United States. You will immediately trust and want to meet this person.
This is the beauty of backlinks. Search engines think the same way as humans in
this sense. They want to see that other, more "official" sites, give you the
enough credit to link back to your site. We call this link juice and it
directly affects your domain authority. Domain authority helps give a ranking
system to evaluate how a SERP ranks a site. You can evaluate your domain
authority of your website here.
SEO Services
There are many services that can help you with supplying
backlinks for your site from sites such as Fiverr, but these are not all they
are cracked up to be. This is because many times they make promises to supply
hundred and hundreds of backlinks to your site, but the issue is that the sites
they are linking to yours are normally not relevant to your website. Search
engines can smell that trickery from a mile away. If you have a website and
there are multiple links back to yours from political website that might not
match up to your doughnut shop. This will end up doing more harm than good.
Potentially setting you back significantly in terms of domain authority, and to
think… if only you knew this before trying to cheat the system! Oh yeah, you do
know now!
If you are looking to do a link analysis on you or your
competitors backlinks you can create an account with My Site Auditor with a 10 day free trial
that does not require a credit card! I love to look at whomever is doing the
best in whatever industry my client is in and try to mimic their backlink
strategy. The art of this is to figure out who is doing the best and who is
doing nothing. From there we can copy the beauty's and leave the ugly's out of
the equation.
How SEO Backlinks Works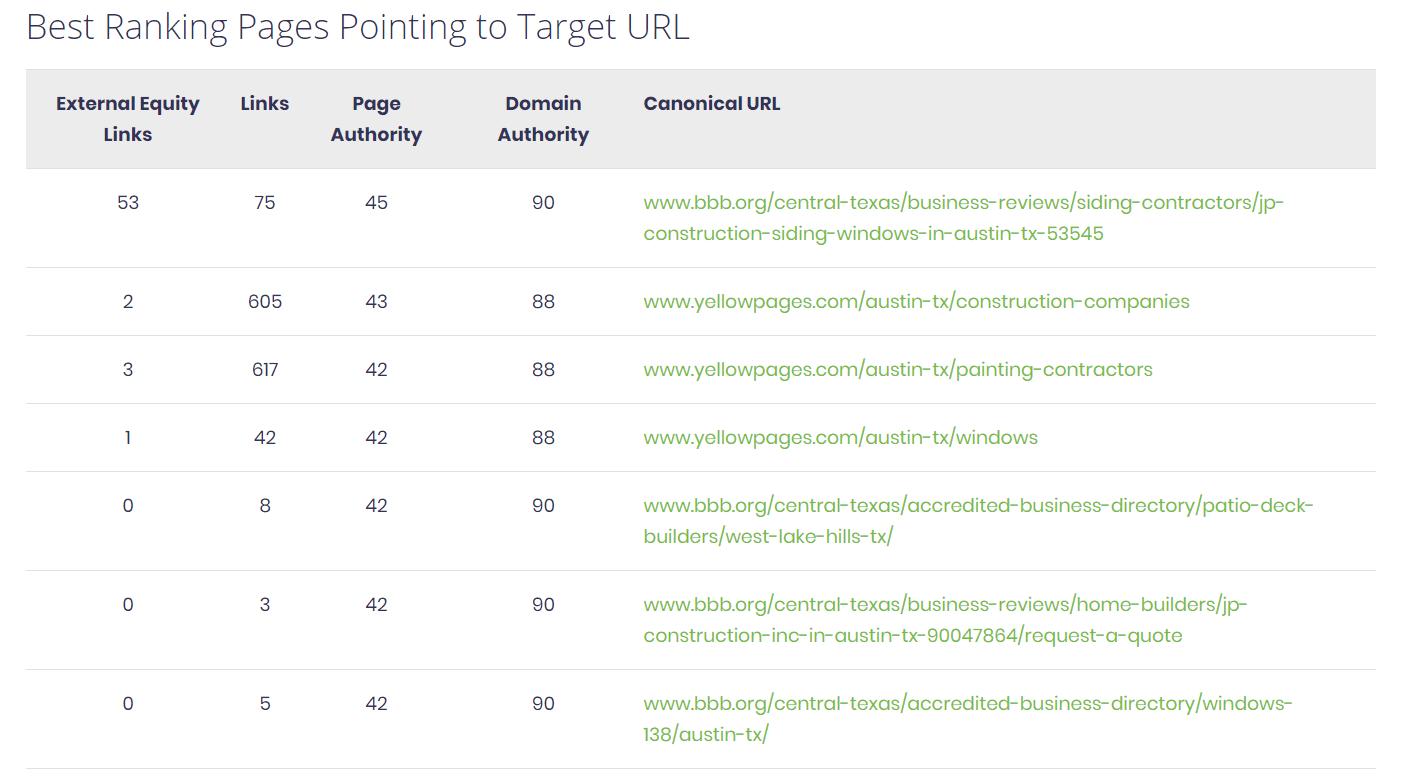 Content SEO
This is the backbone of your website. The backbone of search
engines algorithm. Writing content isn't good enough. It needs to attract the
audience you are trying to reach, keep the content directly on your domain,
make headlines that people "have to" read, use keywords that attract the
algorithm to show users that are searching for these keywords to your site,
structure the article correctly, and blast it off through all of your social
media platforms! You need to make sure that this content you pump out isn't
short. Google favors content over 2,000 words. Just know that there is no going
halfway when it comes to putting out content for your website! Its either all
or nothing.
Many business owners are scared to write because they think
that they don't know what they are doing, and I must say that I 100% agree with
them! I feel the same exact way. For years I was so scared to write anything
that I paid hundreds of thousands of dollars to have others write not only for
myself but for my clients. I still need more and more practice, but I refuse to
give up! Sometimes we just need to take that leap of faith and give the ole
college try! If you are too busy and want to focus on what you do best which is
running your business then you can use writers from sites such as Fiverr or UpWork
to hire proven professionals. Though when hiring a SEO agency professional, they
should have employees or outside contractors that should be able to put this content
out there for your business. Just make sure that if you go this route you
approve the content before it gets released. Knowing everything you know now
after reading this you can determine if that is the content that you want to
represent your company.
Conclusion
Take this knowledge and defeat your competition!
Don't let them get the upper hand through a digital presence. You need to take
the steps necessary to make sure your company is on the path to being number
one on search engines. This will be one of the most rewarding journeys you will
take from a marketing standpoint. Being able to track new customers that have
never been to your business or purchased your product just organically find you
through the internet. The feeling becomes even more and more gratifying when
you reflect upon all the steps it took to get you where you're at in that
moment.